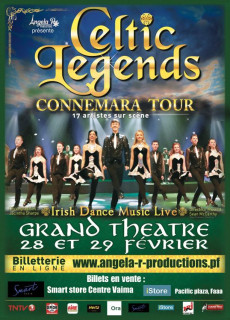 CELTIC LEGENDS
28/02/2021 - 10h00
Tahiti - Polynésie Française
The good news CELTIC LEGENDS will be in Tahiti on February 28 and 29, 2020 at the Grand Théâtre de la Maison de la Culture. Dressing up every time they appear, this traditional Irish dance, music and song group is all the rage wherever it performs.
17 DANCERS, DANCERS AND MUSCIANS ON STAGE
 A troop of +17 dancers, dancers and musicians who will make you travel to the wild moors of Connemara. Together, on stage, they will tell you the story of the people of the Emerald Isle with energy and virtuosity.
Two hours of colorful whirlpools, breathtaking dances choreographed by the talented Jacintha Sharpe on frantic traditional rhythms performed by musicians with incredible talent (Uilleann-pipes, flute, violin, bodhran, guitar, accordion) all under the musical direction of Sean Mc Carthy.
A NEW 100% LIVE FAMILY SHOW that combines tradition, creativity and modernity!
Let yourself be carried away by the dance step and the sound of their dazzlingly synchronized tap dancing.
To date over a million people have seen the Celtic Legends show and it's Tahiti's turn to enjoy this new show. 2 evenings will take place on February 28 and 29 at the Grand Théâtre of the Maison de la Culture for the enjoyment of the Polynesian public. We will be able to discover this unique production which draws its roots from Irish culture, a journey for the eyes and the ears!