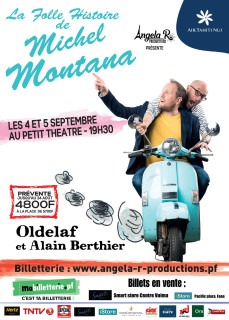 LA FOLLE HISTOIRE DE MICHEL MONTANA
05/09/2020 - 19h30
PETIT THEATRE
Tahiti - Polynésie Française
After having filled the Zenith of Paris, the Olympia and the Alhambra and a tour of more than 150 dates with his group on his musical project. Oldelaf will be on the stage of the Petit Théâtre de la Maison de la culture with his long-time sidekick Alain Berthier. They will make their debut on this small stage in Tahiti on September 4 and 5, 2020 in a very intimate humor show.
Michel Montana is a French singer born in 1946 to a French mother who was shaved and a sterile father. A true miracle of nature, he came to singing late in life, where he revealed himself to be a special person. Finally, really apart, the other singers do not accept it. He will be at the height of the 70's, in the world of Sardou, Cloclo, Fugain, and will even be at the origin of several cult songs without ever embracing the expected success.
Oldelaf, an atypical artist with a devastating sense of humor, needs no introduction. After two successful albums ("Le monde est beau" and "Dimanche"), the singer who makes people laugh, as he defines himself, offers a more intimate show; in the company of his accomplice Alain Berthier, who was on stage with him during the two previous tours.
Oldelaf and Alain Berthier, the only two members of the FCMM (Fan Club Michel Montana) evoke with tenderness and passion the best hours of this unknown genius
The duo takes us into their own universe to recall the beautiful and great career of this unknown artist.
- The most fiercely hilarious show of the last 12 years
2- A fascinating and instructive conference on the greatest singer of the last century: Michel Montana
3- Unforgettable songs that remain in people's hearts, performed with mastery, a guitar, and a trash can
4- A story of friendship and brotherhood between the two speakers