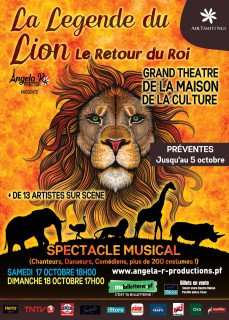 THE LION KING
06/03/2021 - 18h00
GRAND THEATRE
Tahiti - Polynésie Française
On the African savannah, reigns a majestic and all-powerful lion, who protects the other animals. The Lion King in Tahiti...
His young son knows that one day he will succeed him, but he is far from guessing the hardships that the exercise of power will impose on him.
Indeed, an evil character has always aspired to the throne and will do everything to prevent the succession.
Fate then places on the young lion's path, curious characters from the jungle, funny and surprising...who will help him grow up and take back what is rightfully his...
Come and discover The Legend of the Lion, a spectacular Musical Comedy in the colors of the savannah! The artists give life to wonderful unpublished songs, and whirl around dressed in magnificent colorful costumes. This show is suitable for the whole family and will leave you speechless. It's sure to put some glitter in your life!
 More than 13 artists on stage, in magical costumes,