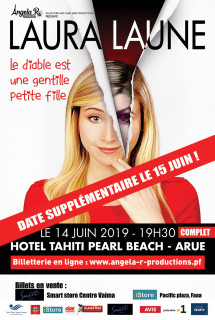 LAURA LAUNE – LE DIABLE EST UNE PETITIE FILLE
14/06/2019 - 00h00
TAHITI PEARL BEACH RESORT - SALLE ENDEAVOUR
Tahiti - Polynésie Française
Angela R. Productions presents Laura Launa and her new  One Woman Show " The Devil is a gentle little girl" in Tahiti.
On tour, Laura Laune will play three sold-out dates in Nouméa and the scheduled date in Tahiti is already full more than two months before the show !!!
A second date is granted to us !! and will take place ON JUNE 15 at 7:30 p.m. at the same place as the first screening, namely: the ENDEAVOR room of the TAHITI PEARL BEACH RESORT - ARUE hotel which will become a beautiful theater on this occasion.
Laura Laune is a Belgian musician, actress and comedian known in France for having won FRANCE A UN INCREDIBLE TALENT in 2017. Her one woman show "The devil is a nice little girl" was a phenomenal success throughout France and "l Laura Laune's deliciously borderline humor "goes everywhere. This young and pretty blonde with the face of an angel has no limits, she dares everything! In a stripping black humor and total irreverence, his angelic madness and his characters filled with paradoxes give you chills.
In addition, it has been awarded several times in the top comedy festivals in France, namely:
PRIZES OBTAINED
 Harvest of humor (Mâcon Festival)
Audience Award - Top in Humor (Chartres Festival)
Audience Award, Jury Award, Partner Award
Rire en Seine (Rouen Festival): Audience Award
Festival International du Rire de Bierges: Audience Award
Jury Prize - Festival International du Rire de Rochefort
Audience Award, Jury Award, Press Award - Estivales du Rire de Dinard
Audience Award, Jury Silver Luron - Voo Rire de Liège
Jury Prize, Festival Prize. - Les Andain? Ries Festival: Audience award - Kings of Comedy humor contest (Brussels)
First prize - Morges-Sous-Rire Festival (Switzerland)
Audience award for the entire show
Montreux Festival (Switzerland): First prize
https://youtu.be/mP9Xlv0dMUw
TELEVISION
2011: We only want to laugh, France 2 2013
Belgium's Got Talent, RTL-TVI 2015
The Great Evening of TV parodies, TF111 2015
Impossible duets by Jérémy Ferrari - 2nd edition, D812 2016
Comediscope, Comedy + 13 2016
an Late Show, La Deux 2016 - 2017
mile and Song Festival, Plug RTL14 2017
France has an incredible talent, M6
HERE IS THE PITCH OF THE SHOW
The Devil is a sweet little girl
 Today, booking sites increasingly offer the opportunity for viewers to give their thoughts on the artists they have visited. Conversely, artists never have the opportunity to give their opinion onthe spectators who came to see them. Therefore, rather than imposing on you a show pitch that will be neither objective nor convincing, I prefer to use this space of freedom to give you my opinion on Stéphane and Sylvie, who attended my show last Saturday:
Rating attributed to Stéphane and Sylvie:
4/10 - "Good but nothing more"
I did not know them at all before entering the stage, so I came without a priori, but despite an obvious mastery of their role as spectator (we feel that they are not at their first show), I admits having struggled to enter their world. Their laughter is irregular, uneven in the duration of the show, and we feel most of the time that Stéphane is in a kind of mimicry vis-à-vis Sylvie's reactions. I find that they fall into the stakes pretty quickly, especially on the whole part concerning the jihad, where Sylvie's offended cries were a bit exaggerated in my opinion. From a fairness and generosity point of view, we are far from the performance of Marc and Bénédicte that I had the chance to host two weeks ago. You can feel an overall lack of maturity throughout the show (nervous laughter on most of the valves about sodomy), but I still note a great sincerity in the applause. I don't think they'll be on TV one day, but I hope to see them again in a few years, why not in a bigger venue, so they'll be further away.